Wednesday, September 29, 2010
I am so bad about getting everything I need to do done in one day. And I am talking about the basics here, from not having a hectic shower in the morning to getting to bed at a decent hour. A while ago I made myself a small little task chart to help me keep chores done. This was a chart for myself and myself only and it worked great. But as time went on, I think due to nobody else doing their part I just fell off the page and went back into my same old unorganized daily routine. At the time I made the chart I did not realize that EVERYONE in this house was unorganized!

Now that I am trying to get in better shape and lose weight I decided that it was time we all bucked up and got our stuff together. It was time to go to bed at a good time, wake up at a good time and get all of our chores done but not just done, done DAILY. No more saying , well, maybe tomorrow. One thing I know is that if I am going to change my eating habits the rest has to change as well. Chaos leads to bad eating choices for me and that cannot happen anymore. I am 112 pounds overweight because of this crazy home we created. It is all going to stop from the organization to the kids who think they can scream all day long. My kids are generally well behaved but we have one kid going into the wild 2's and another who just started the crazy 3's, it's a madhouse here these days! I cannot even talk on the phone without scolding someone for something. What this craziness means for me: I get stressed - I eat, I see clutter - I eat, I hear yelling - I eat, I eat, eat, eat, eat! WE need an entire lifestyle change from head to toe , inside and out.

Which is why I decided to make a daily Schedule for ALL of us. I color coded the chart and put it on the fridge. Tom is blue, I am red and the girls are in pink. Of course Tom doesn't have much on there because he is gone at work most of the day and the weekends will be slightly different. Kind of like, instead of school Saturday I will be alone in the room putting together lesson plans for the ENTIRE week coming instead of doing them daily until the wee hours of the morning like I do now. And the girls will be focusing on CLEANING their bedroom and it is also time to teach them how to wipe down their bathroom counters and potty. We all need to be active members of this house from now on. We have too many plans for the future to be so unorganized.




On another note, please remember to follow my weightloss blog & if you know anyone on a weight loss path please send them my way. I could totally use all the support I can get and I try to post things that will help others as well. This 112 pounds is going to be one looooooong journey. I post healthy but yummy recipes daily so all have some benefit. :)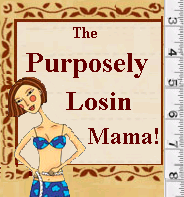 Share
Tweet