Thursday, September 9, 2010
Are you a homeschooler who would love to have more readers to not only share your experiences but to learn from? If so Join our new homeschool hop! I made it for purely selfish reasons of course as this is my first year and I REALLY need ideas. Your blogs keep my days going so thanks in advance for joining the hop!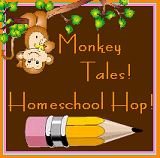 Rules:
1.
"Follow" the host blog Sugar, Spice & Monkey Tales.
2.
Post our banner with a link to our homeschool hop in a post on your blog.
3.
Add the link to the post to the hop below.
4.
Choose the blogs you want to follow and follow them.
5.
Be sure to leave a comment for each blog
you follow so they know you followed.
6.
Follow back all homeschool blogs who follow you from the hop.
Share
Tweet